Once a month, my co-research director and partner in crime,
Chris McClean
, and I will use our blog to highlight one of the 26 people who collaborate to deliver our team's research and services and always make Chris and I look really, really good. Each "Analyst Spotlight" includes an informational podcast and an offbeat interview with the analyst. This month's Analyst Spotlight features our newest analyst,
Martin Whitworth
. Based in London and bringing experience as a CISO and Head of Security across several industries, Martin will cover the most pressing issues keeping CISOs reaching for another bourbon on the rocks, including security strategy, maturity, skills and staffing, business alignment, and everyone's favorite pastime, reporting to the board.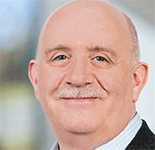 Prior to joining Forrester, Martin served as CISO and senior security leader for a number of blue chip organizations, including Coventry Building Society, Steria Group, UK Payments Council, British Energy/EDF Nuclear Generation, and GMAC. In these roles, he developed and executed a variety of security strategies and programs, and he has extensive experience successfully engaging business and board-level stakeholders. He also has considerable experience as a trusted advisor to security leader peers in the public and private sectors internationally, as well as advising standards and regulatory bodies.
Read more
Categories: