Every CX leader is in a unique position, responding to customers, processes, and touchpoints particular to the business. No matter where your organization is along its customer experience journey, get to your destination faster, and achieve your priorities in:
Establish, fund & scale the CX function
Collect & analyze data for customer insights
Embed voice of customer into the business
Design experiences that drive loyalty
Enable CX with technology
Measure CX and prove ROI
How We Help Drive Business Results
Recognized as the global leader in CX research, Forrester provides rich insights, strategic frameworks, and hands-on guidance that empower leaders and teams to convert their CX vision into programs that adapt with changing demands and demonstrate real business results.
Lay the foundation for continuous CX transformation.
Build a strategy, and implement proven models that adapt and grow with the needs of your business and market.
Prove the value of CX initiatives.
Quantify the outcomes of your initiatives through a proprietary algorithm for modeling the financial impact of CX investments.
Build a culture of CX across the enterprise.
Build CX capacity and mindset across the ecosystem through training and certification.
Leading-Edge Insights, Guidance, And Tools
Forrester Research
Research backed by deep insights aligned to CX leader priorities and hands-on guidance from industry-leading CX analysts.
Research Spotlight
Discover The Virtuous Cycle Of CX Management
There are six key areas of CX management that interlock to form a virtuous cycle of improved customer loyalty and business outcomes:
Research. Understand your customers in depth, and communicate that understanding to employees and partners.
Prioritization. Focus on what's most important for your customers' experience and your business's success.
Design. Define and refine experiences based on your vision and customer understanding.
Enablement. Provide employees and partners with the resources they need to deliver the right experiences.
Measurement. Quantify the quality of experiences and their link to the organization's overall metrics.
Culture. Create a system of shared values and behaviors that focuses employees on delivering great customer experiences.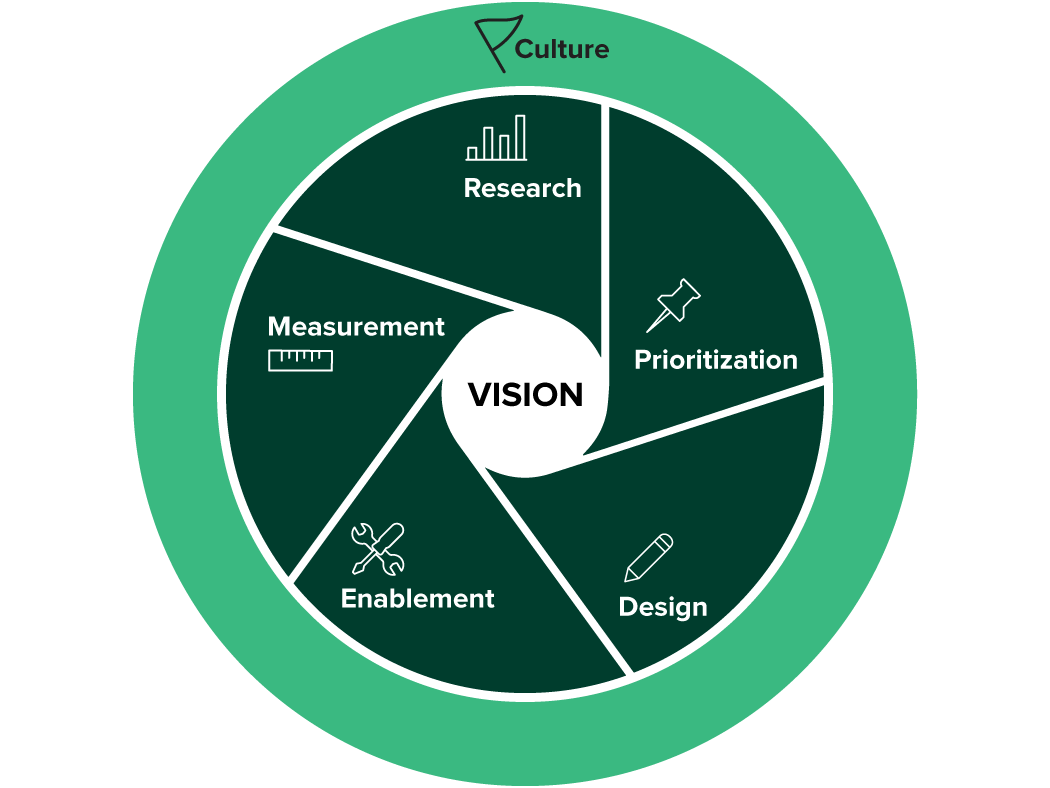 Blog
Use best-in-class examples to prioritize your retail mobile app development.
Read More
Connected Experiences. Inform. Integrate. Grow.
A more connected experience is possible. Learn more at CX North America, Forrester's must-attend event for CX practitioners.
Blog
The Future Fit Challenge Applies Today, Not Just Tomorrow CIOs and technology leaders have a core objective to develop and improve the technology foundations and innovation their firms need to win, serve, and retain customers. They must also enable their employees with the capabilities to achieve this customer obsession in an efficient and effective way. […]
Read More
Blog
When the COVID-19 pandemic struck, in many cases making digital the only channel through which customers could interact with brands, Forrester saw a significant uptick in inquiries related to accessibility, mostly from companies getting serious about accessibility for the first time. The pandemic served as a wake-up call not just about the importance of digital […]
Read More
Safeguard Your Post-Pandemic Reopening With Real-Time Feedback Collection
Learn how real-time feedback collection empowers you to monitor and proactively address customers' reopening concerns in this webinar.
Thank you for registering!
You should receive an email confirming your registration within the next 15 minutes. Add forresterinfo@mrktg.forrester.com to your list of approved senders to ensure successful email delivery to your inbox.