Enterprise Architecture Council
Council advisors help senior-level enterprise architecture executives apply insights from forward-looking research and best practices of an exclusive network of peers and analysts to navigate risk and accelerate key business initiatives.
Members of Forrester's Enterprise Architecture Council are tackling these top priorities in 2018:
Integrate leading practices that align your team and drive the key components of business technology strategy to serve customers and internal stakeholders.
Develop the architecture strategies, organizational structures, and skills and competencies the enterprise architecture team needs to successfully migrate to and support the future of the cloud.
Understand challenges and uncover opportunities through best practices for information strategy and data management imperatives.
For a complete list of Enterprise Architecture Council members' top priorities, key questions, and a calendar of events, download the 2018 program overview.
Download program overview
---
Join our next meeting
Gain peer insights today. Join us for the next Enterprise Architecture Council meeting and discover what Forrester's Leadership Boards are all about.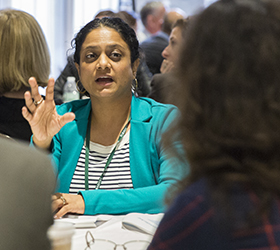 ---
"Forrester's Leadership Boards are a key ingredient in our Enterprise Architecture practice. Talented council advisors keep our critical initiatives tied to upcoming research and efforts at other member companies. Council meetings allow us to discuss how other member companies are addressing similar challenges and generate actionable feedback. Throughout the year, peer connections help us refine our initiatives and validate our best practices. I can't imagine an enterprise architecture team being complete without membership in the EA Council."
Brian Dummann
Chief Architect, Emerson