Customer Experience Council
Council advisors help senior-level customer experience executives apply insights from forward-looking research and best practices of an exclusive network of peers and analysts to navigate risk and accelerate key business initiatives.
Members of Forrester's Customer Experience Council are tackling these top priorities in 2018:
Measure and establish customer engagement metrics to optimize execution of great customer experiences.
Determine customer experiences to innovate and apply design thinking to enhance customer experiences with or without a solution partner.
Engage employees to transform to a customer-centric culture by exploring incentives and leading strategies to drive culture change.
For a complete list of Customer Experience Council members' top priorities, key questions, and a calendar of events, download the 2018 program overview.
Download program overview
---
Join our next meeting
Gain peer insights today. Join our next Customer Experience Council meeting and discover what Forrester's Leadership Boards are all about.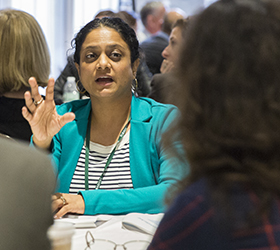 ---
"Working with the CX Council advisors and members has been invaluable. As a council member you have the rare opportunity to see what other CX leaders have done, how they did it, what worked, and what didn't and use that real-world knowledge to build your own CX program. Key value comes from the advisors' knowledge of other members' efforts, which allows advisors to connect leaders who are in similar situations. It's like having an extension of your team who is finding new research, tools, and resources to help build a better CX program."
Kerrie Sullivan
Managing Director, Member Experience & Retention
AAA Club Alliance