The CIO Group
Advisors help senior-level technology executives apply insights from forward-looking research and best practices of an exclusive network of peers and analysts to navigate risk and accelerate key business initiatives.
Members of Forrester's CIO Group are tackling these top priorities in 2018:
Enable enterprise agility to improve the end-to-end customer experience while balancing responsiveness and efficiency.
Implement cost-effective security frameworks in a digital world for increasingly complex and dynamic cyberthreats.
Embrace innovation that is sustainable and becomes part of the organization's corporate culture.
For a complete list of CIO Group members' top priorities, key questions, and a calendar of events, download the 2018 program overview.
Download program overview
---
Join our next meeting
Gain peer insights today. Join our next CIO Group meeting and discover what Forrester's Leadership Boards are all about.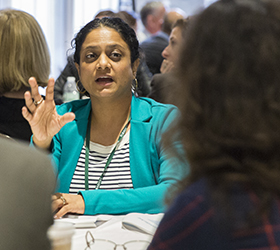 ---
"Like most organizations, we are challenged with delivering strategic value and support to our business in the most cost-effective way. Lessons learned from Forrester analysts in presentations to The CIO Group help us develop tangible solutions that meet our objectives. Positive change also comes from sidebar conversations with CIO Group peers who are generous in providing real-world examples of similar problems they have faced and overcome. Through Forrester analysis and peer interaction, membership in The CIO Group equips us to produce outstanding results for the organization."
Greg Morrison
Senior Vice President & CIO, Cox Corporate Services